Congratulations to all the award-winning games 'powered by Telescape'
We interviewed the owners and designers of award-winning escape games to find out how they did it.

If you're keeping up with the
Escape Industry News
, you may have noticed in one of our recent newsletters that December was awards season. From the
ESCAPETHEROOMer's Bullseye Awards
, to many enthusiast websites and directories compiling their top lists. It's a time for celebration and from the bottom of our hearts we wanted to say a huge "congratulations!" to the record number of award-winning rooms that were 'powered by Telescape'.
But it's also a time for reflection. Just what is the special sauce that makes some escape rooms stand out above the rest? To find out, we spoke to some of the owners, developers, and designers behind some of the most popular award winning escape games on Telescape.
Beverley Breakout | Bringing Physical Escape Rooms to a New Global Audience
Our first stop was right here in the United Kingdom. Home to no small amount of internationally acclaimed escape rooms, one of which is a little family-run site in East Yorkshire:
Beverley Breakout
. Though they may be small, their exceptional puzzle design has been noticed all around the world since migrating
Room 118
to Telescape. In the 2021 Bullseye Awards they took home an award celebrating the room's
Outstanding Puzzle Design
.
To adapt their physical escape room to a digital format, Francine, the owner of Beverley Breakout enlisted the help of another award-winning escape room designer,
David Bodsworth at
Escape One Algarve
. Francine explained what an impact this had on the company,
It meant we were able to connect with more people from around the world who normally wouldn't be given the opportunity to play our games. Telescape was the first type of online game I played and enjoyed. It meant you could experience proper puzzles and rooms in established venues - the next best thing to being in a room.
In the near future, Francine and her team are hoping to recreate the success of Room 118 and convert even more of their physical escape rooms into a digital format with Telescape. Even though they are no longer in lockdown in the UK, being able to bring in new audiences from around the world has been invaluable.
Online Escape Rooms Ireland | Immortalizing A Physical Room in a Digital Space
Elsewhere in Europe,
Online Escape Rooms Ireland
also took home two awards at the Bullseye Awards for Player's Choice:
Best Online Game
and
Best Live-Hosted Game
. Both were awarded to their escape room
O'Brien's Cottage
but the creator Sarah Donovan had another motive for digitising the escape room. Sarah explains,
O'Brien's Cottage' was our very first escape room that we ever built, and we were able to essentially freeze it in time digitally before we moved premises. We wanted our online players to feel as though they were really there, playing the room themselves, and I think we achieved that.
During lockdown, the Online Escape Rooms Ireland team moved from the town of Ennis to the nearby town of Shannon, reopening their escape rooms there. O'Brien's Cottage was one of the rooms that needed to be dismantled for the move. Ultimately, the team made the choice to reassemble it at the new site, but players can still play the original game any time in Telescape.
O'Brien's Cottage remains their most popular physical and digital room, and it is based on local folklore of a legendary 'Fairy Tree'. This trend of paying homage to local landmarks is something Sarah and her team have gone on to explore in other 'powered by Telescape' games such as
Spirit Seekers Ireland
with a touching tribute to a local heritage site.
We asked Sarah if she had any advice for any other escape room businesses looking to create digital experiences with Telescape. Sarah had three things to say, firstly
My most important advice to anyone creating a game is to please PLAY PLAY PLAY as many games as you can… Make notes of what elements you enjoyed and which elements you found frustrating, and bring those points into your own creation. Other creators are always happy to help those who help themselves.
She also emphasised the importance of testing your room thoroughly,
Test lots! Yes, feedback can be brutal, but please rake through it carefully for as many little gems as you can find. Take a deep breath and don't take it personally, there is always some bit of truth in every opinion - even the ones you disagree with.
And finally,
There is a trend at the moment to create new games with graphic images, some of which are really very good, but there is an audience of escape room players that would love to see more "real rooms" accessible as point-and-click, myself included. I hope more escape room owners play with this option to attract players from all over the globe.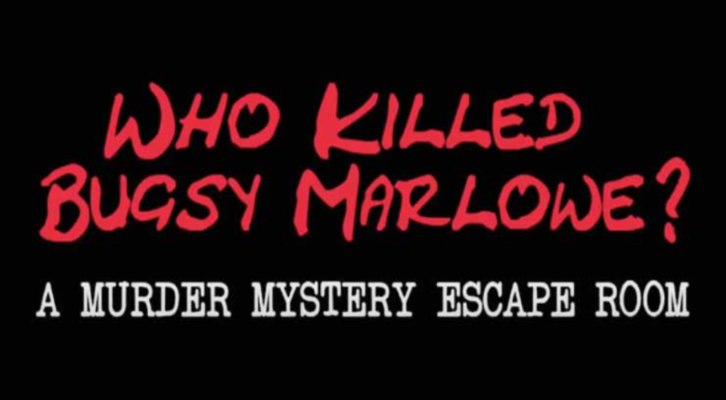 Great Scott Escapes | The Classic Whodunnit… In Telescape!
Another company that has done an incredible job of converting their real life escape room into a point-and-click format with Telescape is
Great Scott Escapes
, across the pond in Scottdale, Pennsylvania. In the 2021 Bullseye Awards they were awarded the
Best Overall Digital Game
of the year for their 1930s murder mystery room,
Who Killed Bugsy Marlowe
.
This escape room was originally purchased from
EscapeWorx
, then recreated in it's new venue home in Pennsylvania. The room has gone on to be a huge success and has gained many positive reviews from enthusiasts all over the world. So, when the lockdown hit and Great Scott Escapes was forced to temporarily close their doors, it was a no-brainer for the owner Dwight to take his successful "Whodunnit" escape room online. Dwight got in touch with
Daniel de Maio, the Chief Game Designer at Help Us Escape
. Daniel has worked on several award winning and nominated Telescape games over the last few years. Daniel explains,
Who Killed Bugsy Marlowe is using something called 'magic mode'. Players must solve everything within the main 360° photo, with programmed hotspots and dragables. We also decided to make the game black and white.
One of the things that players love the most about Who Killed Bugsy Marlowe is the murder mystery mechanic. Unlike a 'traditional' escape room, your goal isn't to escape it's to figure out whodunnit. This formula translates perfectly from physical escape room to digital point-and-click, with a handy click and drag board for organising your suspect's motives and alibis.
Following the success of Who Killed Bugsy Marlowe, Dwight and Daniel are working on several more games which will be available as physical rooms and to play digitally online with Telescape.
Mystery Mansion Regina | Four Times Award Winning Digital Escape Rooms
Taking the prestigious award of 11th overall worldwide, and 1st in Canada at the TERPECA Awards,
Mystery Mansion Regina
also won the
Best Overall "Immersive Experience"
of the Year in the Bullseye Awards for the thrilling finale to their horror trilogy: Sleepy Man. Unlike many other escape room award winners in this list,
Sleepy Man
is an entirely original game created by Mitch and is only available as a live-avatar or digital game.
Mystery Mansion Regina have been pioneers in the at-home escape room genre since lockdown first came into effect in Canada. At the beginning of their journey their digital experiences were built with a basic form of inventory system which was enough to get the games live. A little while later, Mitch discovered Telescape and after implementing it, he explains they've never looked back,
Telescape kept improving and continued to push us further in the development of our games. It has given us the ability to add an extra element to our live-avatar games, allowed us to convert games into "point-and-click" styles, and has even provided a perfect platform to convert our live-avatar games into a purely digital format. Honestly, Telescape really does have it all when it comes to supporting online/digital escape room games.
As with the previous games in the Sleepy Man trilogy, the team are currently finalising the adaptation of Sleepy Man into a fully point-and-click version 'powered by Telescape'. The digital games provide an additional income stream and bring in new audiences from all around the world. But most importantly, Telescape enables Mitch and his team to reclaim the physical space required by their live avatar escape rooms so that they may continue innovating and creating new and exciting escape rooms.
When asked if he had any advice for other escape room designers, Mitch explained that,
Honestly, my biggest piece of advice would be to check out other games that have used Telescape. Starting with the program right now might be a little daunting, but seeing what others have done is a great jump-off point in terms of game development. Additionally, the Telescape Users Facebook group is a definite must. It is a great place to ask all questions you have and to receive support from other users who are happy to help.
District 3 | Using Telescape to Power Constant Innovation
Just a short distance away in the same city, Regina, David and Lindsay are the owners of another award-winning escape room company called
District 3
. In 2021, District 3 took home the award for the
Best Overall "Live-Hosted" Game
at the Bullseye Awards for their coffee-shop conspiracy game,
Something Brewing
.
The District 3 team have been huge innovators on Telescape, and since launching Something Brewing they have gone on to release countless other live-avatar escape rooms, digital escape rooms, and Society of Wonders, an outdoor scavenger hunt that takes place in the city. David Ma, the game's designer, explained how Society of Wonders works,
Players book, arrive, and can play the entire experience without entering the store. Telescape adapts based on the team's choices, and which area they want to go next within a 420,000 square meter area in the district that the company is within. For this experience, Telescape helps out with mapping, revealing clues, accepting codes, and much more.
The one thing underpinning all their recent game development however has been Telescape and few companies push the boundaries of what is possible as far as District 3. David explains that Telescape has been an invaluable tool for keeping their business blooming during lockdown and beyond,
Telescape has been an unbelievable tool to help bring District 3 Escape Rooms into the realm of online escape experiences. It plays such a huge role due to its quick and effective ability to create the interactions players come to expect in these experiences from when they play in-person.
Finally, after developing a number of different games powered by Telescape, we asked David if he had any advice for other escape room creators,
We recommend representing as much of your in-person rooms as possible; from gameflow to being able to split up and work on different things. Make Telescape an integral tool to your already fun room; adding player-controlled UV light, teamwork puzzles with the host, triggering things in the room, etc.
Agent November | The prequel to multi-award winning mission 'Virtual X-Caper'
Back in the United Kingdom Nathan, the owner and director of
Agent November
looked to Telescape to bring his online Zoom-based game,
Mind Heist
, to life. In the recent Bullseye Awards, Mind Heist took home the award for the
Best Overall "live-hosted game"
of the year with particular attention to its interaction between the actor and the players.
Creating Mind Heist was a really ambitious and iterative project! We wanted to make it an interactive adventure, similar to the old "choose your own adventure" story books. We filmed several videos that would be seen by teams, depending on the different choices that they made, and we created 8 different puzzle paths through the game. So there are enough puzzles for people to play through the game twice, and still get 100% different puzzles (and a different narrative ending) each time! From a design perspective, it was very complicated to fit all these elements together into a story, while keeping the gameplay straightforward.
For Nathan and his team, whilst the main action of the escape room occurs within Zoom via a handheld camera, Telescape really helps. Nathan loves it because he doesn't have to be pointing his camera at every item at the same time, and the players love it because they can see what everyone is working on. Nathan explained,
The final iteration of the game came when we introduced Telescape to the mix - all of a sudden the gameplay became a lot more fluid, as the information was streamlined and teams could focus on playing the game instead of managing information. And it's certainly a lot easier for us to run the game now!
When asked if Nathan had any advice for other creators using Telescape, he mentioned
The ability to include videos and portals to websites really helped to build the world of Agent November and update players on the narrative, without a ton of exposition from the actor running the game. I love the fact you can have videos play full screen for every player. You can even have one code trigger several items, and have those items display for all players. These give you a lot of options on how your players will interact with your game.
Hourglass Escapes | Corporate Commission to a Successful Public Launch
In early 2020, the team at
Hourglass Escapes
were hard at work building a point-and-click multiplayer escape room experience known as
The Navigators and the Call from Beyond
. This year the game went on to win the
Best "Cooperative Game"
at the 2021 Bullseye Awards, and has received wide praise from enthusiasts all over the world.
What started as a game for a private event at JPL, The Navigators went on to see huge success with a public launch powered by Telescape. We spoke to the director, Seth Wolfson, who described the game as a
"retro, sci-fi atomic punk puzzle game"
. In this original digital game, players are split across four different screens. Essentially, each player has a quarter of the puzzle, and everyone must work together to 'escape'.
Hourglass Escapes was an early adopter of Telescape, and spoke of the experience,
At the time, Telescape was new and we found ways to push Telescape to its limits. It's now more robust but we wanted to make something unique. It had a lot of animated GIFs, sound effects and of course the music video at the end.
Since then, Seth and his team, with the help of Tyler Stuart, the Chief Programmer at Hourglass Escapes, have been through it all and stuck with Telescape for all their digital game launches. From converting physical escape rooms like
Rise of the Mad Pharaoh
, to hosting live escape rooms online, to creating brand new original games from scratch.
Given their experience, we asked Seth if he had any advice for any other creators looking to use Telescape for their digital games. Seth said,
Just go for it, find new and interesting things to do with Telescape. But also be willing to hire professionals to do the art and graphic design. Users are putting out such incredible looking games now, so you have to keep up to be marketable. Get professional photographers. The photos you use will make the game look great or not so great. Overall, just do it.
Mojec Hyper Industries | Using Telescape to Power a Dungeons and Dragons Style Roleplay Puzzle
From converting escape rooms to digital games, to creating brand new experiences from scratch, to innovating beyond the 'escape room' genre entirely. That's exactly what game developers
Mojec Hyper Industries
have done with their latest game,
Dracula's New Friends
. This puzzle game is powered by Telescape and was awarded with the
"Best Character of the Year"
in the Bullseye 2021 awards.
Mojec Hyper Industries had a fantastic idea to run a puzzle game like a Dungeons & Dragons style roleplay, and looked to Telescape as a tool to bring the idea to life. The inspiration to create Dracula's New Friends stems from the classic Bram Stoker novel. Essentially, it is a modern point-and-click retelling of the Dracula story with a twist: A "Dead"-icated Live Actor!
We caught up with the Creative Director Jeremy to find out more about Dracula's New Friends and how Telescape helped him execute the concept.
It is only because of Telescape that we were able to launch our game. Being a small outfit, we did not have the resources (in time or money) to develop our own, proprietary platform. Telescape's simple, easy-to-learn system and very affordable rates are the reason we exist.
With the technical side of the game development taken care of with a simple to use platform like Telescape, it freed up Jeremy and his team's time to run the game, which is fuelled by character interactions.
When asked if he has any advice for other creatives who would be interested in turning their ideas into a reality, Jeremy shared a few things he's learned from working with Telescape:
1. Don't upload a 350 megabyte file as a background image – file sizes matter when building online games! 2. I believe that, sadly, the gold rush of online games is over. Having "play anytime" (without a GM) games is what I am building next. Hourglass Escapes has some good ones. In one month we easily make enough to pay for a year of hosting. 3. Art is everything. That is where most of our budget went to and every time someone plays our game, they comment on our art. Fluorescent lit plaster walls are a bore, in my opinion (unless that is key to your theme!)
Congratulations to All Bullseye 2021 Award Winners!
As well as all the teams we've spoken to above, many more escape rooms powered by Telescape (and Buzzshot) took home
2021 Bullseye Awards
.
How to Get Started with Telescape
Whether you're looking to adapt an existing escape room into a digital format, or create a brand new escape room experience from scratch, you can sign up for Telescape for free today and get 10 free game credits to start you off. Bring your online escape room to life at
https://telescape.com